Helping Seniors Stay Independent Longer
It's estimated that, by 2030, more than 85,000 Richmond residents will be over the age of 55. To ensure that their needs are met—that they have the necessary support to live independently, with dignity—we need to start today.
At Richmond Cares, Richmond Gives, we already have. In fact, we started over 30 years ago. That's how long we've been providing Seniors Community Support Services. Our goal has been, and always will be, to help seniors remain independent for as long as possible, while keeping them connected to the community.
To access our services, clients must be 65 or older and reside in Richmond, though exceptions may be made for clients as young as 55 who are living with a chronic health condition.
The SHINE program, through which we offer housing navigation assistance, is available to clients aged 60 and over.
Clients can refer themselves to our services, or be referred by a health care professional, friend, or family member.
To register for services or request more information, call 604-279-7020.
Seniors Community Connections
For older adults and their families, we offer a free, multilingual information & referral service, called Seniors Community Connections. Our trained volunteers can help clients access a wide range of community resources, whether related to housing, healthcare, transportation, government benefits, or another area where clients have questions or need support.
Beyond providing information, volunteers can assist with completing government forms and filing basic tax returns.
Information & referral sessions are held at our office in the Richmond Caring Place, located at 190 - 7000 Minoru Boulevard. To schedule an appointment, give us a call at 604-279-7020 or email info@rcrg.org.

Grocery Shopping and Delivery
Clients, or friends/family members on their behalf, can provide their grocery order through phone, e-mail, or fax to an RCRG staff member or Volunteer Phoner.
Groceries are shopped at:
- Seafair Safeway 8671 No 1 Road – every Tuesday and Thursday
- PriceSmart Foods 8200 Ackroyd Road – every Wednesday
- Delivery Time: 11:00am onwards
Clients must provide their grocery order at least 1-2 days in advance and before 2:00pm, with detailed information about the brand name, size, flavour, etc. Ice cream is not included for food safe reasons.
Clients must provide credit card information or store gift card for payment of groceries.
Our shopping service is co-funded by Vancouver Coastal Health—Richmond and the Province of BC, through the Better at Home program.

Senior Peer Counselling
When seniors are experiencing anxiety, frustration, or loneliness, they're often most comfortable speaking with someone to whom they can relate. That's why the volunteer counsellors in our Senior Peer Counselling program are all older adults themselves.
Counsellors complete a 44-hour training program before they're affiliated with Senior Peer Counselling of BC and begin seeing clients. During weekly one-one-one sessions, volunteers offer clients emotional support and help them cope with the sometimes difficult changes that come with the senior years.

All meetings are free and confidential, and can take place on the phone or in the client's home. To learn more, call 604-279-7020.
The Senior Peer Counselling program is funded by Gilmore and Courtyard Gardens.
Prescription Pick-Up and Delivery
This service is for clients whose pharmacy does not provide delivery. Clients need to have ordered and paid for their prescription before pick-up/delivery. Advanced notice of 4-5 days is required.
Richmond Family & Friend Caregiver Hub
Funded by the Province of BC and TD Bank Group, with support from the United Way and Family Caregivers of BC, our Family & Friend Caregiver Hub promotes the health and well-being of those who provide unpaid care to an older adult, whether a family member, friend, or neighbour.
Through the Hub, caregivers can access peer support, recreational and educational workshops, a resource library, and many other services.
To learn more, visit rcrg.org/caregivers.
Richmond Seniors Directory
The 2022-23 edition of the Richmond Seniors Directory is here! Published by RCRG in partnership with the Richmond News, this free resource for older adults lists hundreds of community programs and services, covering health, recreation, transportation, and more.
Printed copies are available at our office in the Richmond Caring Place, at the Minoru Centre for Active Living, and at many other locations throughout the community. You can also read the entire Directory online!
Elder Abuse Tip Sheet
Elder abuse takes many forms, and often happens out of public view. Victims seldom report it, for reasons that are entirely understandable. In cases of physical abuse, they might be scared. If they've been targeted by a financial scam, they might be embarrassed. Above all, they simply might not know where to turn, or that support even exists.
With funding from the Government of Canada's New Horizons for Seniors Program, we've taken an important step in shedding light on elder abuse. Working with a team of volunteers - all older adults themselves - we've developed an Elder Abuse Tip Sheet, available in both English and Chinese.
The document identifies different types of elder abuse, and lists phone numbers that seniors can call if they need support. There's also a section on safety, outlining what seniors can do to avoid identify theft, financial fraud, and other crimes.
A digital version of the Tip Sheet can be downloaded below, while printed copies are available at our office.
Elder Abuse Tip Sheet (English) | Elder Abuse Tip Sheet (Chinese)


Richmond Better at Home

Funded by the Province of BC and managed by the United Way, the Better at Home program reduces isolation, enhances mobility, and supports independence among BC's diverse seniors population. RCRG runs the program in Richmond.
Transportation
Our Transportation service, supported by volunteer drivers, is for medical and selected non-medical appointments within and outside Richmond. Rides are subject to volunteer's availability. The fee is a sliding scale based on a client's annual household income. There is currently a waiting list for this service.
Friendly Visiting
A free one-on-one service for seniors available in multiple languages. Designed to mitigate social isolation and promote community connection. Friendly visits occur once a week in the client's home or over the phone. Duration of the call/visit depends on client and volunteer.
Light Housekeeping
This service, offered in partnership with professional contractors, helps seniors maintain safe and healthy homes. The fee is a sliding scale based on a client's annual household income. There is currently a waiting list for subsidized services. Clients must provide their own cleaning supplies and use environmentally friendly cleaning solutions.
Prepared Frozen Meals
Deliveries are made every other Thursday. Orders need to be submitted the Tuesday before, by 12:00pm. The cost is $7.00 per meal and $1.25 for desserts. Clients must order a minimum of 5 meals.
Please call 604-279-7020 or email yli@rcrg.org for the menu. Clients can provide credit card information for payment of meals, or may pay by cheque or cash.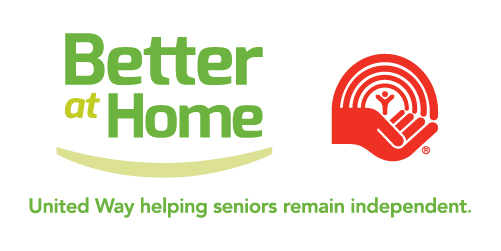 Better at Home is funded by the Government of British Columbia and managed by the United Way.
Become a Volunteer
Our Seniors Community Support Services are themselves supported by an incredible team of volunteers—a team we'd love for you to join! Opportunities are available as volunteer grocery shoppers, drivers, and friendly visitors, just to name a few.
Visit our online database for a list of current postings, or call 604-279-7020 for more information.