A Night That Captured Richmond's Volunteer Spirit
On April 9, 2019, the Red Cedar Ballroom, at Pacific Gateway Hotel, was bright enough to be seen from space. It had nothing to do with the lights, mind you. Rather, the room was illuminated by Richmond's volunteer spirit, emanating, most brilliantly, from the 34 individuals and groups who were nominated for a Volunteers Are Stars Award.
The event, once again, was a sellout, with over 250 community members in attendance to honour and celebrate Richmond's remarkable volunteers. This year's nominees spanned the demographic spectrum, reflecting Richmond's diversity, but also the way in which volunteerism brings people together. The nominees came from different backgrounds, but were connected by their shared passion for community service.
In all, eight awards were given out across four different categories, and while the winners are highlighted below, every volunteer in attendance was indisputably a star.
Star of Richmond
The Star of Richmond Award, sponsored by The Dupuis Langen Group, honours an individual who has demonstrated exceptional leadership in the non-profit sector.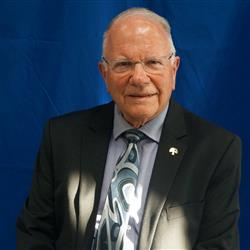 John Watson
John Watson has a passion for building things, both as a Civil Engineer and a long-time volunteer. He has lived in the Vancouver area for 80 years, and spent the last 50 of those in Richmond, where he has amassed a monumental list of accomplishments.

He began volunteering in 1981, as a Board Member at the Richmond Public Library. He would serve there for six years, including two as Chair, during which time he was part of a task force that researched the delivery of library services in BC. Many of the group's recommendations were implemented provincewide.

In 1982, he became involved with another Richmond cultural institution, even though it did not yet exist. He joined a steering committee, established to determine whether Richmond needed a performing arts and theatre venue. He was a leading voice in recommending that yes, we did.

Two years later, in 1984, Gateway Theatre opened on Gilbert Road. In addition to recommending that it be built, John was part of the committee that oversaw its design and construction. Today, the venue is entering its 35th season of professional live theatre.

The Richmond Gateway Theatre Society also provides much needed performance space to a variety of amateur theatre, dance, music, and community groups, along with offering a thriving youth theatre education program.

In 1987, John turned his attention to a new project, when he became Chair of the Cultural Centre and Library Expansion Building Committee. In this role, he gathered feedback and input from Richmond's many arts and cultural groups, ensuring that their needs would be accommodated in the final building design.

The end result was the Richmond Cultural Centre, which opened in 1992, on Minoru Gate. Today, the facility is a warm and welcoming local landmark, home to the Richmond Public Library, Richmond Arts Centre, Richmond Museum, City of Richmond Archives, and Richmond Art Gallery.

In 1990, John took on another new role – perhaps his most challenging yet. He joined a taskforce charged with negotiating the transfer of the Vancouver International Airport from federal control, under Transport Canada, to a local organization.

His professional expertise as an engineer, the leadership and management skills he'd honed as a volunteer, and his natural integrity were key to the successful transition. So much so that he was appointed a Founding Director of the new, non-profit Vancouver Airport Authority, a position he would hold from 1990 until 2011.

As Chair of the Airport Authority's Capital Projects Committee, John was instrumental in the design and construction of a new parallel runway, the award-winning International Terminal building, renovations to the Domestic Terminals, and the airport portion of the Canada Line. During his tenure, he oversaw over $1 billion of capital investment into projects that were completed on-time and on-budget.

When he stepped down from the Vancouver Airport Authority Board, in 2011, he immediately joined the YVR Green Coat volunteer team. He's been there ever since, welcoming visitors and locals alike to the airport he helped build.

Also in 2011, John began serving as a Board Member at the Richmond Gateway Theatre Society. In 2016, he became Chair. Under his leadership, the organization has continued to grow and evolve, while consistently developing innovative programming that's inclusive, meaningful, and relevant to the Richmond community.

His term on the Gateway Board ends this year, and his nominator indicated that he's now on the lookout for a new volunteer opportunity. His qualifications more than speak for themselves.
Shooting Star Award
The Shooting Star Award, sponsored by the Richmond Sunrise Rotary Club, honours youth volunteers under 25 years of age. Two awards were presented in this category.
Jason Pang
There are few causes as important as the environment. Our future, quite literally, depends on our ability to find solutions to rampant pollution, climate change, and other forms of ecological degradation. Leave it to a high school student to take the lead.

Jason Pang has been at the forefront of green initiatives in Richmond and beyond. In 2016, he co-founded the Plastic Connection, a youth-led project that aims to educate not only British Columbians, but people across the globe, about sustainable plastic usage and disposal.

His work with the Plastic Connection included launching a Facebook page, writing blog posts, and organizing community engagement events – like shoreline cleanups – to highlight the impact of plastics in our everyday lives. He was recently recognized by the Recycling Council of BC for his contributions to the preservation and protection of BC's environment.

Since 2015, Jason has been a team leader with the City of Richmond's Green Ambassadors. The group, made up of local high school students, organizes a variety of environmental initiatives, including the annual Richmond Earth Day Youth (REaDY) Summit, waste diversion programs at City events, and activities aimed at preserving fish habitat.

As a Green Ambassador team leader, he spends considerable time planning monthly symposiums, in an effort to further develop the group's student leadership and educate his peers about pressing environmental issues.

Jason has always been part of his school's environmental team. When he transferred to Richmond High, in 2016, and found that there was no environmental club, he started one himself, and became its President. Under his leadership, the Richmond High Green Team has launched a number of initiatives, from Meatless Mondays to Walk to School Weeks, with the goal of making Richmond High the greenest school in the world.

Beyond his work as an advocate for the environment, he volunteers as a Crusader with the St. John Ambulance Cadet Program, and as Director of Administration for Youth Achieving Success, a non-profit organization that helps high school students better understand their career options and develop professional connections.

While still only in high school, Jason has already contributed over 2,125 volunteer hours. Every day, he's doing his part to create the future – and the planet – he wants to see.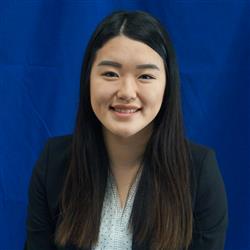 Amy Ho
Volunteers change lives every day. Amy Ho often goes a step further, and helps save them.

As a Crisis Line Volunteer at Chimo Community Services, she responds to calls from people in distress. Her clients include everyone from teenagers to seniors, all of whom are dealing with a personal crisis, whether related to mental or physical health issues, family problems, relationship conflicts, suicidal thoughts, or addiction.

Over hundreds of calls, Amy has managed to create a safe space for clients to talk freely. She listens without judgement, and demonstrates empathy towards everyone, regardless of their background or the issue they're facing.

She administers crisis intervention accordingly, while empowering callers to find solutions to their own problems. She also refers clients to other community services, where they can receive additional support.

In 2017, because of her strong character and exceptional communication skills, Amy was chosen by Chimo to become a Group Leader and Coach. This role includes the additional responsibility of supporting new Crisis Line Volunteers, by organizing roleplaying scenarios and sitting in with volunteers when they take their first calls.

She's also been involved with Chimo's Coldest Night of the Year, an annual fundraising walk in support of services for homeless residents. In 2017, she served as a Route Captain, helping to plan the walk, organize first aid coverage, coordinate checkpoints, and manage volunteers.

Apart from her work with Chimo, Amy has been a volunteer with St. John Ambulance since 2006, currently holding the position of Division Superintendent. In this role, she leads a team of 12 officers, and together, they run weekly training meetings for 90 members – aged 6 to 18 – of the Richmond Youth Division. She also volunteers as a First Aid Attendant at a variety of community events.

To date, she has contributed over 5,500 volunteer hours, in roles that require patience, emotional maturity, and unbelievable dedication. Most people, regardless of age, would shy away from such responsibility. Amy has embraced it, and our community is stronger as a result.
Constellation Award
The Constellation Award, sponsored by McDonald's, honours volunteer groups for their service and contributions to the community. Normally, two awards would be presented in this category. However, due to a tie in judging, we recognized three winners this year.
Richmond Better at Home Volunteer Drivers
Seniors deserve every opportunity to lead full, active lives. Too often, however, lack of transportation prevents them from doing so. Or at least, it would, if not for the tireless efforts of the Richmond Better at Home Volunteer Drivers.

Using their own vehicles, they drive seniors to medical appointments, community events, recreational activities, and more. In the past year, they completed an astounding 2,212 rides!

In the five years it's been running, the service has become a lifeline for seniors who, due to mobility issues, health challenges, or a shrinking social network, are at risk of becoming isolated or even losing their independence.

Often, volunteers are called at a moment's notice, and many provide multiple rides per day. They step up time and time again, offering clients not only transportation, but support and companionship.

Richmond is a diverse, multicultural community, and that's equally true of our seniors' population. For older adults with limited English skills, language can be a barrier to accessing services. Because volunteer drivers speak multiple languages – including English, Mandarin, Cantonese, French, Hindi, and Punjabi – they can interact with clients from a wide range of cultural backgrounds, making the service more inclusive.

Beyond providing alternative, age-friendly transportation to Richmond seniors, volunteer drivers have taken further steps to keep older adults healthy, independent, and connected to their community.

They serve, for example, as grocery delivery drivers, with the Richmond Cares, Richmond Gives volunteer shopping program. In this role, they deliver fresh groceries to seniors who are unable to shop for themselves. They also take time to put the groceries away and visit with clients, becoming a friendly face that clients look forward to seeing every week.

On occasion, volunteers will even drive seniors to a supermarket or shopping centre of their choice, and help them shop for groceries and complete other errands before bringing them home.

We all have a part to play in creating a caring, supportive community for seniors. The Richmond Better at Home Volunteer Drivers are leading by example.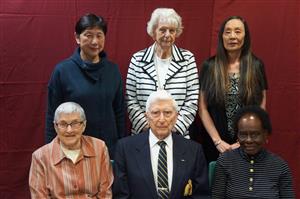 Richmond RCMP Community Police Office Volunteers
Richmond RCMP Community Police Office Volunteers, a group comprised entirely of older adults, have formed the backbone of Richmond's Community Police Offices for over two decades.

Their responsibilities are incredibly diverse, encompassing everything from office administration, to customer service, to outreach and education.

For both callers and walk-in clients, these volunteers are the first point of contact, providing information on a variety of crime prevention programs and other community policing initiatives.

They also prepare and distribute education and awareness letters, which are sent to people who have incurred driving infractions. Sometimes, these individuals call the Community Police Office, seeking an explanation. It's up to volunteers to calm them down – as they're often upset – and explain why they received a letter.

Community Police Office volunteers have also played a key role in a number of public awareness campaigns, including Pedestrian Safety, Project Swoop (targeting high-risk drivers), and a campaign that highlighted the dangers of Distracted Driving.

In these instances, volunteers photocopied campaign materials and put together packages for distribution. This time-consuming work happened behind the scenes, but was critical to each campaign's success. You can understand why their nominator called this group of volunteers the "unsung heroes" of the Community Police Office.

It's true that their tasks aren't glamorous: folding brochures, recording volunteer hours, loading and unloading equipment, watering plants. But taken together, these small jobs make a profound difference. As much as anyone, Community Police Office volunteers have contributed to crime prevention and community safety. They've just done it in an office setting.

As part of their role, they provide coverage when their coordinator is on lunch, or away at a meeting. Otherwise, the office would have to close. During these times – and every other time over the past 20+ years – this volunteer group has been a constant at Richmond's Community Police Offices, ensuring that they remain open and accessible to the public.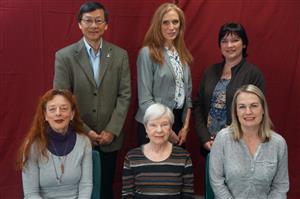 Thompson Community Association Children's Committee
The Thompson Community Association Children's Committee was created in 2015, in an effort to better understand and respond to the needs of children from birth to 12 years old.

The Committee is responsible for reviewing current programming, identifying gaps in service, and highlighting opportunities and emerging community needs that may be addressed through new programs, services, facilities, events, or connections.

The group's innovative yet practical approach to early childhood education has helped the Thompson Community Association become a leader in inclusive, evidence-based children's programming.

Among its initial achievements was the introduction of Richmond's first Parent & Child Mother Goose Program. A collaborative venture with Richmond Family Place, the free program used rhymes, songs, and stories to create a positive family experience through language and communication.

The Committee identified Mother Goose as a program that would benefit the many Richmond parents who, along with their children, are English Language Learners, and its success speaks to the Committee's ability to respond to the unique needs of our diverse, multicultural community.

The group marked another major milestone in December 2017, with the opening of Thompson's nature-inspired tot lot. The project stemmed from research on the importance of outdoor play, and the need for children to understand and interact with their natural environment.

The Committee worked alongside preschool instructors, parents, and Thompson Board Members to develop the play space, ensuring that it met the needs of both the resident preschool and community members.

Today, the Thompson tot lot attracts families from all corners of Richmond, giving children and parents alike an opportunity to connect with nature.

Despite being active for less than five years, the Committee has already contributed to lasting, positive change in the Thompson neighbourhood. Whether by launching new programs, or opening new facilities, the group has played a leading role in fostering a safe, nurturing environment where children can learn and grow.
Nova Star Award
The Nova Star Award, sponsored by Trinity Western University, honours individual volunteers for their service and contributions to the community. Two awards were presented in this category.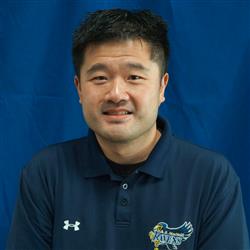 Steward Siy
Honour. Integrity. Sportsmanship. Humility. Perseverance. These are admirable qualities for anyone to possess. They're particularly important, though, for a high school basketball coach, who's responsible not only for winning games, but serving as a positive role model for his players.

Steward Siy has been a volunteer coach for the past decade, serving primarily at A.R. MacNeill Secondary School. In his time there, he's had an immeasurable impact on the boys' basketball program, and the many young men who have passed through it.

His commitment to the school, his players, and his fellow coaches is truly remarkable. He spends countless hours at the gym with his teams, going over game film, planning out drills, and doing anything he can to support his players and help develop their skills.

If this were just during the school year, it would be worthy of praise. But for Steward, coaching is a 12-month commitment. As just one example of this, he co-founded MacHoops, a club team where MacNeill students can continue playing in the off-season. This goes far beyond simply opening the gym; it involves organizing tournaments and running leagues, all of which Steward does quietly and humbly, never seeking attention.

His coaching abilities, recognized throughout the BC basketball community, are rooted in a love for the game and a respect for his players, many of whom he has inspired to become coaches as well. More than that, though, using basketball as his medium and the gym as his classroom, he's taught them to become good, responsible men.

Steward has done more than anyone to put MacNeill basketball on the map: the team went undefeated this year, and won multiple tournaments. His achievements, however, have occurred in the face of an unimaginable loss. Several years ago, his wife, and the mother of their infant son, passed away after a long battle with cancer.

Despite this, Steward continues to give his all, as a single dad, as a business owner, and as a volunteer coach who exemplifies honour, integrity, sportsmanship, humility, and perseverance.
Howard Smythe
Over the past decade, Richmond has gained a well-earned reputation for hosting world-class events. Of course, there were the 2010 Winter Olympics. But there's also Ships to Shore, the Richmond Maritime Festival, and the Richmond World Festival.
Howard Smythe has played a part in every one of them.
During the Olympics, he was on the Protocol and Hosting Team, where he was responsible for maintaining effective communication and proper etiquette at a variety of functions attended by international dignitaries.
Howard also volunteered at major events leading up to the Games. In 2009, he did media relations for the Canada Line opening, and setup and crowd control when the Emperor of Japan visited the Richmond Oval.
He didn't slow down once the Olympics were over. From 2011 to 2017, he volunteered as Ship Liaison and Team Lead at the Ships to Shore Festival. In this same period, he also volunteered at the Richmond Maritime Festival, doing media relations; at Winterfest, as Team Captain; at the Richmond World Festival, as a media escort; and as a Team Lead at various Richmond Halloween events.
Despite what was clearly a jampacked schedule, Howard still found time, from 2013 to 2016, to serve on the City of Richmond's Sister City Committee, sometimes as Acting Chair. In this role, he helped further build Richmond's reputation on the global stage, by strengthening relationships with our three sister cities: Wakayama, Japan; Pierrefonds, Quebec; and Xiamen, China.
Howard knows, however, that creating a world-class community starts at home. And so, while he's spent thousands of hours volunteering at events that have welcomed visitors from across the globe, he's given just as much time – if not more – on Parent Advisory Committees at his sons' schools, and as both a Board and Committee Member at Thompson Community Centre.
Despite moving to Surrey last year, Howard remains a committed Richmond volunteer, serving, since 2008, as both an Ambassador and Richmond Olympic Experience volunteer at the Richmond Oval.
Indeed, his nominator says that, if you count his commute, he may be volunteering now more than ever.
2019 Volunteers Are Stars Nominees
They're dedicated. They're passionate. They're hardworking. And every day, they make a difference in our community. Without further ado, here are the nominees for the 2019 Volunteers Are Stars Awards:
• Better at Home Volunteer Drivers
• Jessica Chan
• Kelvin K.W. Chan
• Charles Chen
• Tom Cheuk
• Gary Chiu
• Mark Da Silva
• Generations Connect - Basic Technology Class for Seniors
• Generations Homework Club for Elementary Students
• Nina Graham
• Amy Ho
• Tina Hu
• Ken Hutton
• Ivy Jiang
• John Koop
• Daniel Lau
• Diane Lawrence
• The Lord's Harvest Fellowship
• Eunice Ng
• Frances Oeser
• Jason Pang
• Richmond Olympic Experience Interviewers
• Richmond RCMP Community Police Office Volunteers
• Richmond RCMP Victim Services
• Balpreet Sasan
• Charanpreet Sasan
• Steward Siy
• Lorne Smith
• Howard Smythe
• Thompson Community Association Childrens Committee
• Walk Richmond
• Nina Wang
• John Watson